Gia công CNC là một trong những loại hình công nghệ tiên tiến trong lĩnh vực gia công cơ khí. Nhằm giúp các bạn có một cái nhìn tổng quan và toàn diện về gia công cnc, Cơ khí Việt Sơn sẽ tóm gọn tất cả trong bài viết sau:
I. Classification Concepts and How it Works
1. What is CNC Machining?
Gia công CNC được viết tắt từ computer numerical control, là sự kết hợp giữa công nghệ máy tính và các công cụ vật lý. Cụ thể, các kỹ sư sẽ mã hóa bản vẽ sang ngôn ngữ lập trình, còn gọi là G-code/M-code và đưa vào máy tính. Sau đó, các dòng mã hóa này sẽ điều khiển hoạt động của các công cụ chuyên dụng để tạo ra thành phẩm đúng với mục đích ban đầu.
According to Alliedmarketresearch giá trị thị trường của lĩnh vực gia công CNC toàn cầu đạt mức 14593 triệu đô trong năm 2018 và được dự báo đạt 22904,3 triệu đô vào năm 2026 với tỉ lệ tăng trưởng ở mức 5.9% mỗi năm trong giai đoạn 2019 đến 2026. Đặc biệt là ở khu vực châu Á Thái Bình Dương tỉ lệ tăng trưởng hàng năm cao nhất ở mức 7.6%.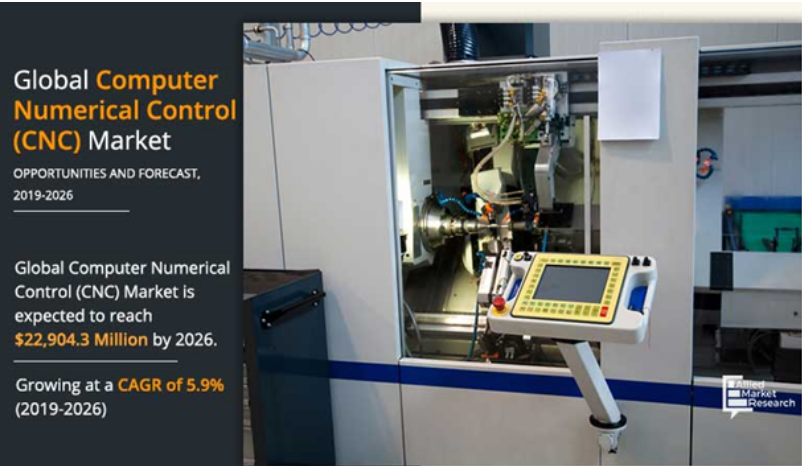 2. Các ngành có thể áp dụng công nghệ gia công CNC
Công nghệ gia công CNC đã và đang được ứng dụng ngày càng nhiều trong các lĩnh vực bởi những ưu điểm vượt trội của nó. 
Some industries that are applying extremely effective CNC technology today are:
2.1 Branch hàng không vũ trụ
Các chi tiết phục vụ cho ngành hàng không vũ trụ yêu cầu độ chính xác rất cao và công nghệ gia công CNC hoàn toàn có thể đáp ứng những nhu cầu đó.
Products are machined from modern CNC machines to tolerances within ± 0.0001mm. Ensure absolute safety for aircraft parts and aerospace equipment.
Aircraft parts are often very large and heavy. Therefore, to produce them, they need to be processed by super-weight CNC machines.
2.2 Automotive industry
Có rất nhiều chi tiết trong ô tô được gia công CNC như bánh răng, bánh đà, khóa động cơ, thanh piston, bánh xe, bộ truyền động, vỏ hộp số, vỏ truyền động, đầu xi lanh động cơ, vỏ ổ đĩa nhôm, máy bơm nước, và nhiều thiết bị khác.
Machining gear system: Some basic applications in vehicles include windshield wipers, hydraulic steering, power windows, electric handbrake, wing mirror adjustment.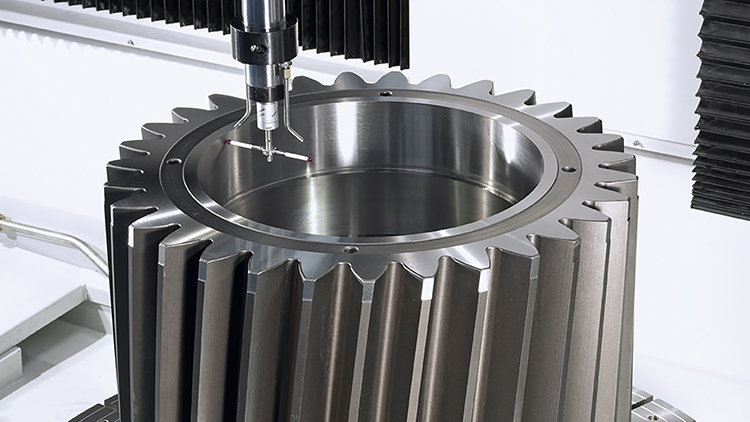 2.3 Trade
Products for the commercial industry are often mass-produced and require high synchronization. Therefore, customers often order in large quantities. They tend to prefer to buy from manufacturers that offer wholesale discounts. 
Công nghệ hiện đại trên các loại máy CNC có thể sản xuất hàng loạt các sản phẩm nhưng vẫn đảm bảo tính chính xác. Hơn nữa các máy có thể vận hành tự động và không tốn nhiều nhân công cũng như vật liệu sản xuất. Do đó có thể tiết kiệm chi phí rất nhiều cho khách hàng. Đây cũng là một ưu điểm của gia công CNC được ưa chuộng hiện nay. 
Ngoài ra gia công CNC còn phát huy tối đa hiệu quả trong các ngành trọng yếu khác như: hàng hải, tự động hóa, công nghiệp năng lượng,… 
3. Phân loại gia công CNC
Because the machining process of mechanical parts requires high complexity, sometimes a product has to go through many stages with different implementations, so CNC machining is also classified into 4 types as follows: :
3.1 CNC milling processing:
Gia công CNC là quá trình sử dụng máy móc theo chuyển động quay tròn để loại bỏ nguyên vật liệu thừa ra khỏi phôi. Trong khi thực hiện, nó phải nhờ đến sự hỗ trợ của máy nghiền, máy vát mép và máy xay xoắn ốc. Thỉnh thoảng, gia công phay còn có tham gia của máy phay tay, máy phay thường, máy phay vạn năng và máy phay đa năng. Những máy này có hướng nằm ngang hoặc dọc tùy vào cách thực hiện.
Viet Son moves to manufacture CNC milling products with a variety of types to meet the needs of customers.
With modern machinery and equipment, we can process mechanical products on demand and large metal parts such as machines, metal shafts, large motors,... Guaranteed High precision and best quality for our customers.
3.2 Gia công CNC tiện:
Gia công CNC tiện là hình thức tiến hành xoay phôi theo trục với các giai đoạn trải qua gồm có: cắt, mài, bắn… cùng các công cụ hỗ trợ là máy tiện tháp pháo và máy tiện động cơ. Trong một vài công đoạn khó, phương pháp gia công này còn sử dụng đến tiện thẳng, tiện côn, rãnh ngoài và ren.
3.3 Gia công laser CNC
CNC Laser Machining: is the process of melting, evaporating and gradually removing materials from the workpiece with a laser beam. The laser beam control system includes: optics, assist gas and laser directional data focused on the workpiece. The benefits of this method are increased machining speed, avoidance of resource waste, and can be performed on a wide range of material sizes.
Viet Son Mechanical can meet most of the laser cutting needs from simple to complex:
Processing on all metal materials: stainless steel, iron, steel, copper, aluminum, ...
Laser cutting processing: sheet metal, machine details, textures, metal furniture and processing according to technical drawings.
Machining stainless steel up to 10mm, iron up to 20mm, copper up to 5mm, aluminum up to 5mm
3.4 Processing and manufacturing CNC machines
CNC machining super-weighted
The super-heavy parts are required to be machined on large machines with large capacity and high precision.
Understanding that demand of customers, Viet Son pays special attention to investing in size machines with modern CNC machining technology. Including Okuma 3m bed milling machine – Fanuc 0M, 4 axis CNC milling machine – Fanuc 0m. Especially the Hision CNC bed milling machine can process details up to 12m and 12 tons.
Ensure the accuracy as well as the quality of large parts or normal super-heavy machine parts. Including head clusters, crankshafts, large diameter steel pipe blocks, gears, flywheels, machine parts, tanks, etc. 
Machining CNC parts with high precision
Modern CNC machines at Viet Son are capable of processing parts with accuracy of size, structure and shape up to +/- 0.001mm compared to traditional machines of only +/-0.005 mm. Thus shortening the processing time and promoting products to the market. 
3.5 CNC drilling processing:
CNC drilling is a mechanical part machining process that uses rotating multi-point drill bits to create cylindrical holes in raw/workpiece material. The design of the drill bits allows the remnants to fall out of it, helping to keep the drill holes neat.
Common types of drill bits used in the CNC machining process include spot drills (to create shallow or pilot holes), burrs, screw drills (to create holes without pilot holes), and punching machine (to enlarge previously manufactured holes). 
3.6 CNC discharge machining:
CNC discharge machining is a machining method that uses sparks to create the final product. 
The setup is made up of a tool electrode and a workpiece electrode separated by a dielectric liquid and subjected to a voltage. This process is also known as spark machining, spark etching, combustion, drowning or wire erosion.
3.7 CNC Plasma Machining:
CNC Plasma Machining is a method that uses electric arc heating and computer control to create a plasma beam that quickly heats and cuts metal. This technique can be performed well with materials such as aluminum, copper, iron ... and used in industries such as manufacturing, welding, auto repair and restoration units, construction works. build…
Ngoài các phương pháp gia công phổ biến này, gia công CNC còn có các hình thức gia công bằng chất nổ, tia lửa điện, sóng âm… Tùy vào mục đích mà người thợ sẽ chọn phương thức phù hợp.
3. Process of performing CNC machining services
Gia công CNC là quá trình quản lý các chuyển động quay quanh các dụng cụ cắt đa điểm. Khi các công cụ quay quanh và di chuyển trên bề mặt phôi, chúng từ từ loại bỏ vật liệu thừa để đạt được thành phẩm như mong muốn. Nhưng để quy trình này diễn ra trơn tru, nó phải trải qua 4 giai đoạn riêng biệt sau đây:
Design CAD models: engineers sketch images and detailed machining points on specialized 2D and 3D drawings.
Convert CAD model to CNC program: the design is in a compatible file format, then extracted and converted into CNC machine control coding and geometry via CAM software.
Setting up the CNC machine: these setup steps include inserting the workpiece directly into the spindle, machine surface or similar machining equipment, and attaching the necessary tools such as drills and milling cutters to the assemblies. other compatible parts.
Performing machining operations: the machine operator starts the machining program according to the pre-programmed codes in stage 2.
II. Factors affecting the price of precision mechanical CNC machining
There are 8 basic factors affecting the price of precision mechanical CNC machining including:
1 CNC Machining Materials
Các vật liệu được sử dụng ảnh hưởng đến giá gia công CNC theo hai cách: chi phí nguyên vật liệu và chi phí gia công vật liệu.
Each type of material has different features and applications, so their costs are also different. Some commonly used materials are aluminum, steel, copper, cast iron, iron, stainless steel, etc.
Materials that are difficult to work or are potentially hazardous will typically have higher machining costs. That affects the price of precision machined products. 
2 Design drawings
Products that need to be processed with complex structures will cost more. Because engineers will have to spend more time and effort to design drawings. Besides, if customers need more consulting services, the price of precision mechanical processing will also be higher. 
3 Shape of the product
Products with large dimensions and complex structures will also increase processing costs significantly. Since the parts are larger, the cost of raw materials will also be higher. 
4 Quantity of products that need CNC machining
The higher the number of products, the lower the cost per unit of product. Moreover, if you order in bulk, customers can also enjoy discounts. 
5 Yêu cầu thiết bị gia công CNC
Các thiết bị gia công CNC như máy phay CNC, máy cắt laser CNC hiện đại thường có giá thành rất cao. Vì thế nếu một sản phẩm cần được gia công trên nhiều máy sẽ có giá cao hơn các sản phẩm chỉ gia công trên một máy. 
6 Tolerance of part
If the products require small tolerances, the machining costs will be higher. Normal tolerances will range from +/- 0.02mm to 0.1mm, depending on customer requirements.
7 Workers
If the processed product requires high difficulty and requires the expertise of engineers, the price will be higher. The more labor required to produce a part, the higher the cost of production.
8 Additional processing and product finishing
If the product requires additional post-processing treatment such as specialized painting, anodizing, heat treatment, chromium plating, etc. Also affects the overall cost. 
III. Bảng giá gia công CNC Việt Sơn
Ở Việt Sơn, mức giá cho gia công CNC sẽ phụ thuộc rất lớn vào thời gian chạy máy, độ phức tạp của chi tiết cần gia công và nguyên vật liệu của chi tiết. Cụ thể mức giá gia công CNC là 5-8tr/ca máy thời gian 8 tiếng.
IV. Quy trình báo giá gia công CNC tại Việt Sơn
1 Receive requests from customers
Customers who have a need for precision mechanical processing in Viet Son will send product samples or drawings via email, courier or meet directly with a consultant for detailed instructions. 
2 Design consultancy, product processing, quotation
Engineers will check the feasibility of the product. Then consult the design, make a processing plan and quote to you. 
3 Ký hợp đồng gia công CNC
Viet Son representative will agree on the processing contract with you. After agreeing the terms, the two parties will proceed to sign the contract.
4 Perform product processing
Engineers and workers will process products according to orders. 
5 Kiểm tra chất lượng sản phẩm gia công CNC
The products after processing will be quality checked by a team of engineers, measuring the dimensions to ensure that all products meet the technical requirements as in the contract. 
6 Product handover, contract payment
After checking the products and finding no defects, Viet Son will hand them over to the customer and pay the contract. 
V. Vietson Xưởng gia công CNC tại TPHCM
Là một trong những Xưởng gia công CNC cơ khí chính xác lớn tại TP. Hồ Chí Minh, Việt Sơn đã thành công với nhiều dự án lớn nhỏ trên nhiều phương diện khác nhau, trong đó nổi bật nhất là 3 dịch vụ sau đây:
Precision mechanical processing by laser method: Viet Son always focuses on the results and finished products created by his business. Therefore, the smooth, smooth, spotless and high-precision cutting lines are done with great care and precision, not to mention the equipment is continuously upgraded.
Processing and manufacturing CNC machines: from basic screws and bolts to complex machine frames, gears, and gears, Viet Son can process them perfectly with high quality and in accordance with the set technical requirements.
Gia công CNC siêu trường và siêu trọng: không chỉ với sản phẩm có trọng lượng nhỏ, Việt Sơn còn gia công với nguyên vật liệu dài đến 12m và nặng 12 tấn. 
Gia công CNC siêu trường và siêu trọng: không chỉ với sản phẩm có trọng lượng nhỏ, Việt Sơn còn gia công với nguyên vật liệu dài đến 12m và nặng 12 tấn. 
V. Why should you choose Viet Son?
Reasons to choose Viet Son
Viet Son has started to build a reputation from the early days of its establishment through the finished products created by the enterprise and the prestige in cooperation. And here are 4 reasons that have helped Viet Son always maintain its reputation:
Possessing a team of capable workers: with more than 50 well-trained and experienced engineers in the mechanical industry, so that even if there is an unexpected problem or problem, they can handle it. handled quickly and neatly.
Advanced operating equipment system: with Viet Son, in order for the finished product to form the right quality, a team of skilled technicians is not enough, but must have the combination and support from modern materials. Therefore, periodically Viet Son always upgrades or buys all necessary equipment.
Spacious infrastructure: come here, it is definitely indispensable for a factory with more than 11,000 m2 solidly built, reasonable area allocation and sufficient production needs.
Clear contract: all terms are carefully considered by Viet Son and included in the contract with the approval of both parties. Partners can base and compare after the product is complete for payment.
CNC machining is a very necessary machining process in the manufacturing field. Therefore, if you or a business need advice and find a long-term cooperation partner in this field, please contact Viet Son via hotline 0898 679 797 – 0922 668 868 for the fastest advice.
BECAUSE. Pictures of some precision CNC machining products in Viet Son
Viet Son is a company CNC precision machining specialist in Ho Chi Minh City. With a team of many years of experience in the field of processing and manufacturing, having extensive experience in many domestic and foreign projects. Every mechanical product that we manufacture is censored with high quality, especially the super-heavy parts.
Along with the system of modern CNC machining machines, it brings high precision and aesthetics, large processing capacity. Can meet all processing needs of customers with the most competitive prices in the market today. 
For detailed advice and receive mechanical CNC machining quotation exactly at Viet Son. Customers please contact:
Hotline 0898 679797 – 0922 668 868.
Address: C2-7, N7 Road, Tan Phu Trung Industrial Park, Cu Chi, HCMC. (address on google map)