It can be said that in most units, mechanical processing workshops now have CNC milling services. However, not all units have enough facilities, machinery and equipment to process large and heavy parts. Therefore, Viet Son has focused on investing in infrastructure and advanced machinery systems. With the desire to provide customers with service CNC milling machining Professional super-weight details with high accuracy and variety of designs.
1. Difficulties in finding CNC milling units for super-heavy parts 
CNC Milling Machining is one of the services that almost all mechanical workshops now provide. Because this modern milling method helps to ensure product accuracy, automates the production process. 
This also helps to shorten the processing time and save costs. CNC milling can process a variety of materials and is used in many industries such as marine, aviation, machine building, etc.
For super-heavy, large-sized parts, they must be processed on large milling machines, subject to high loads. However, many units currently do not have the conditions to equip this type of machine. 
Moreover, for super-heavy parts, the designer, programmer and operator of the CNC milling machine must be highly skilled and experienced. To produce high-precision products, achieving the standard surface quality desired by customers.
Can be seen to find a unit that can do it CNC milling of super-heavy details is not an easy thing. 
Understand the needs as well as the difficulties of the customer. Viet Son has focused on equipping large CNC bed milling machines. With a team of highly experienced and skilled engineers and staff. Can be fabricated to meet all your needs.
CNC milling of super-heavy parts
2. Super-heavy parts can be CNC milled
The super-heavy components are very large and heavy. Therefore, it requires to be machined on large-sized milling machines with large capacity and high precision.
The super-heavy parts that are often processed by CNC milling are often large parts and assemblies or the structure of large machines such as: 
Details of gears, large diameter flywheels, factory frames. And many other large-sized equipment in factories and workshops.

Conveyor blades, head assemblies, crankshafts, steel pipe blocks, gears, flywheels, machine parts, tanks, etc.

Plastic injection molding machine table, concrete molding machine frame, blow frame, other machine frame.

Machining CNC machine frame

, gearbox chassis or production machine frame.
The chassis is the frame that keeps the machine stable. Therefore, the chassis requires a solid structure, high rigidity and good bearing capacity.
These types of details must be carefully designed, accurately calculated parameters. Then it needs to be programmed carefully on the computer. The operator is responsible for observing and monitoring the machining process. To be able to produce the best quality products, ensure technical requirements.
Therefore, Viet Son has fostered a team of engineers through formal training courses on CNC milling techniques with super-weighted details. With the desire to be able to process all requirements of customers.
Machining of CNC screw propeller
3. CNC milling of super-weight details at Viet Son Mechanics
Viet Son Mechanical specializes in providing services CNC milling machining details super super weight. With many years of experience in the field of mechanical processing and the opportunity to work with thousands of large and small customers at home and abroad. Viet Son is confident to be one of the number 1 mechanical processing companies in Ho Chi Minh City today.
With a rich source of samples, products processed on CNC milling machines in Viet Son will bring to customers quality products, diverse and rich in designs.

CNC machining

super-weight, all shapes as required by the drawing. Quick execution time. 

We are always ready to fulfill all orders of individuals or businesses no matter how big or small.

We have professional staff. Ready to serve you at any time.

Fast and professional working process. Ensure scheduled progress.

Has a diverse and modern CNC milling machine system. Ready to process all your requirements.

We guarantee the most competitive prices on the market today.

The company always puts quality and reputation first.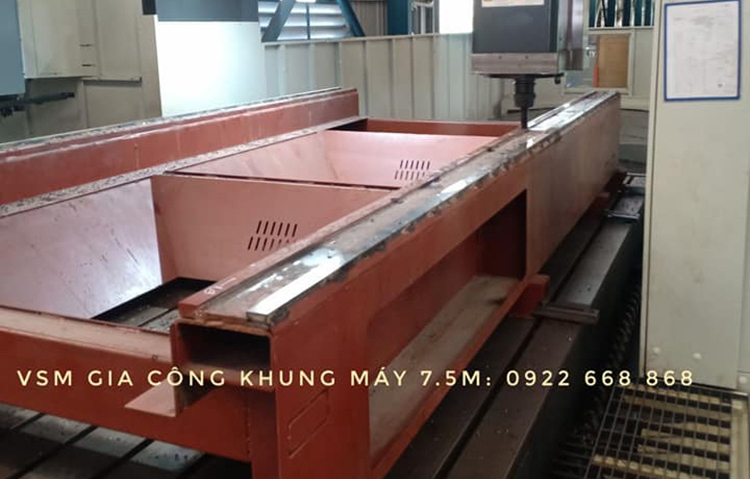 Machining of super-heavy parts at Viet Son Mechanics
4. CNC milling of super-weighted details in Viet Son
In order to meet the needs of processing super-heavy parts according to all customer requirements. Viet Son has built a solid factory with more than 11,000 m2. Not only that, we also focus on investing in the most modern and advanced machinery system on the market. To produce the highest quality and most accurate products. In order not to disappoint you, you have trusted Viet Son.
With our existing experience and capacity, we do not only process and manufacture standard size products and details. But also processing and manufacturing super-heavy parts with a variety of different metal materials. 
Viet Son Mechanical owns large-sized machines with modern CNC machining technology. Including CNC bed milling machine SNK 7.5m – Fanuc 15m, Okuma 3m bed milling machine – Fanuc 0M. Especially Hision CNC bed milling machine can process details up to 12m and 12 tons.
Our equipment and machines can CNC milling machining details on request. And the metal details are large in size. Including machines, metal shafts, large motor machines, etc., you will be satisfied.
Any questions please contact Viet Son via hotline 0898 679797 – 0922 668 868. Or send a request CNC milling machining about email vietson@vietson.com.vn. Our staff will respond to your request as soon as possible.