CIVIL CONSTRUCTION LIGHTFRAME SOLUTIONS
LightFrame is a solution from SmartFrame technology, with a closed process from design to production, application for civil light steel building frames ...
Describe
LIGHTFAME Solution at Viet Son Mechanical
With a system of software and modern machinery and technology, this line is capable of automatically designing a complete set of frames from floors, walls and roofs quickly, simply and at the same time calculating complete details rows in just a few minutes of operation.
LightFrame solutions include: a ProCAD design software, a ProCAM machine control programming software, a steel structure bar production line with a smart light steel frame rolling machine - SmartFrame Roll Forming Machine.
Integrated software: Design, calculate structure, export data. - Integrate with SmartFrame machine, control automatically the production process.
Manage order history, customer and production log.
Publishing detailed drawings, issuing orders for materials, drawings of construction and installation instructions.
Automatic control system by computer, integrated high-speed inkjet printer and printed code every detail.
Modular frame, wall, floor, and roof structures ensure quick installation.
The bolted structural bars without welding help save time, assemble, and move easily.
The products are responsive Simple - Fast speed - 100-year durability - Synchronous technical standards due to being manufactured on industrial lines. The price is 10-30% lower than traditional materials, the product is modern, fast, economical and convenient in European and Southeast Asian countries.
Basic structure
1. Roof Frame Structure - Roof frame structure
2. Wall frame structure
3. Floor Frame
Implementation process
Customer requirements.

Drawing design software.

3D modeling, 2D drawing of material catalogs and quotes, CNC data for manufacturing.

SmartFrame production machine.

Product.

Floor / Wall / Roof Frame.

Complete steel building frame.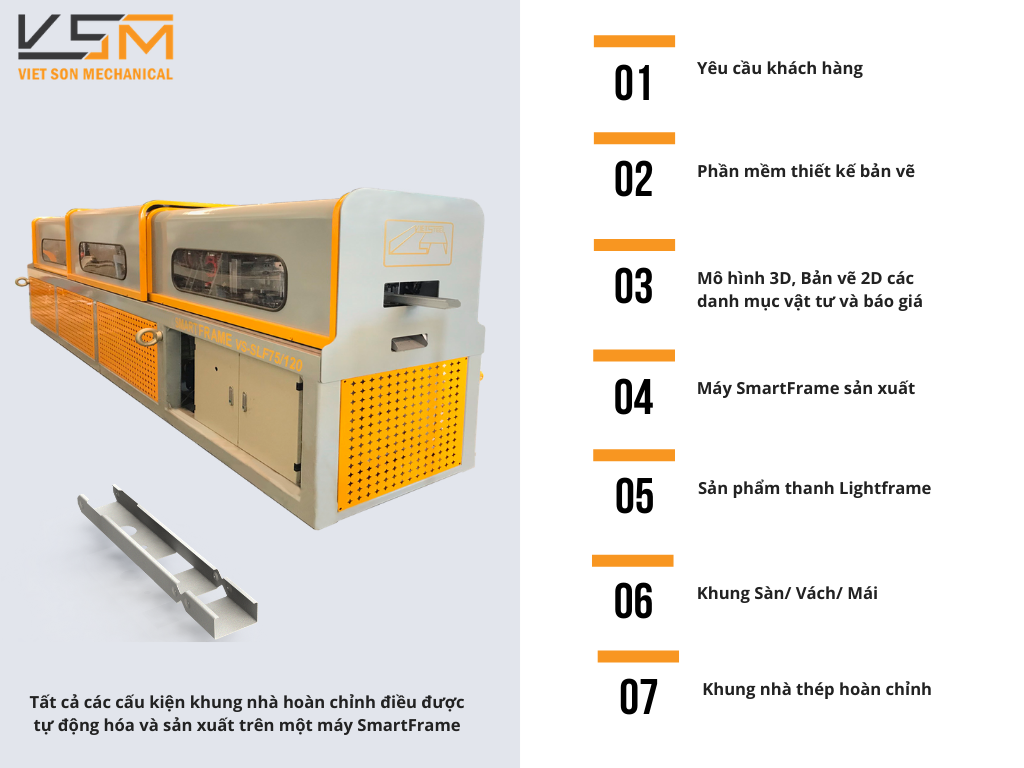 Model
Application
Service