You are looking for a unit that specializes in CNC cutting machining professional metal in HCMC? Contact Viet Son Mechanical immediately, we bring a variety of modern processing types with high quality service, to meet all your needs.
1. Advantages of metal CNC machining service in Viet Son 
Viet Son specializes in providing professional CNC cutting services. Including CNC milling and CNC laser cutting on steel plate, stainless steel, aluminum, ...
Viet Son Mechanical is one of the most prestigious units in the market of Ho Chi Minh City today in the field of mechanical processing. Especially 

CNC machining siêu trường siêu trọng

.

CNC machining services in Viet Son can cut all shapes according to the requirements of the drawings and cut on many different materials. 

Always ready to fulfill individual or business orders in any quantity.

With a system of CNC milling machines and modern CNC laser cutting machines, the products are processed with high quality and accuracy. High productivity response and fast machining time ensure progress.

Viet Son owns a team of engineers graduated from major domestic universities and has a lot of experience with more than 50 people. Ensure careful processing and finished products of high standard.

Professional working process, the staff closely coordinate each processing stage. 

Sign a clear contract and always put the customer's interests first.

Viet Son guarantees the most competitive service prices on the market today.
Modern CNC bed milling machine system in Viet Son
2. Metal CNC machining methods in Viet Son
CNC Milling Machining
CNC milling is one of the types CNC cutting machining. CNC milling is often applied to product parts with large dimensions or hard materials. The CNC milling process uses a variety of cutting tools such as end mills, disc milling cutters, drill bits, .. In order to perform CNC machining such as groove milling, face milling, hole drilling, etc.
CNC milling is done on CNC milling machines. After the machining and cutting process on the CNC milling machine. Viet Son will conduct polishing, grinding, sandblasting ... This process will help the product have higher accuracy. As well as get a nice glossy surface.
Viet Son Mechanical owns large-sized machines with modern CNC machining technology. Can meet the processing of details, products with designs from simple to complex. In addition, it also meets processing on many types of materials such as: cast iron, steel, aluminum, copper, stainless steel, ... 
Viet Son machinery system includes: CNC bed milling machine SNK 7.5m - Fanuc 15m, CNC milling machine Okuma - Fanuc 21m, CNC milling machine 4 axis - Fanuc 0m. and especially Hision CNC bed milling machine can CNC milling super-heavy details. These details are up to 12m long and weigh 12 tons.
CNC milling is applied in the following fields: 
Industry: Processing machine parts, production tools for industry.

Automotive manufacturing: processing a variety of car parts such as axles, pins, gears, brackets and many other components.

Aerospace: Processing engine and steering gear parts, aircraft accessories, etc.

Production: create the structure of the assembly line, production.

…
Popular CNC milling services at Viet Son Mechanical:
Machining CNC machine frame

Machining machine details

Processing industrial stainless steel tanks

Gear machining

Machining of screw impeller

…
Machining CNC machine frame
CNC laser cutting processing
This is the most popular type of CNC machining today. When processing CNC cutting by laser, the lines are highly accurate and aesthetically pleasing. Produces end products of good quality, fine workmanship, beautiful appearance and no need for post-processing.
Viet Son Mechanical owns a modern 1500*3000 (TDL - 301SE) laser cutting machine system and a team of highly qualified engineers to create products of high complexity, meeting tolerance accuracy up to to 0.001 mm with outstanding machining speed and output. 
CNC laser cutting processing is applied in a variety of fields such as:
CNC laser machines can engrave logos, brands, serial numbers, barcodes on electronic components quickly and accurately.
Cut, engrave textures, patterns, 3D images for signs, billboards, cut stainless steel letters, engrave logos on metal plates, ...
CNC laser cutting of metal parts, barcodes, airbags, levers, door frames, trunk, hood and interior.
Services
CNC laser cutting machining
at Viet Son Mechanical:
Laser cutting processing on all metal materials such as stainless steel, iron, steel, copper, aluminum ...

Laser cutting processing: sheet metal, machine details, textures, metal furniture and processing according to technical drawings.

Stainless steel up to 10mm, iron up to 20mm, copper up to 5mm, aluminum up to 5mm.

….
3. Some metal CNC cutting products in Viet Son
Machining CNC machine frame
CNC machine frame milling
Machining CNC milling machine frame
Machining of CNC screw propeller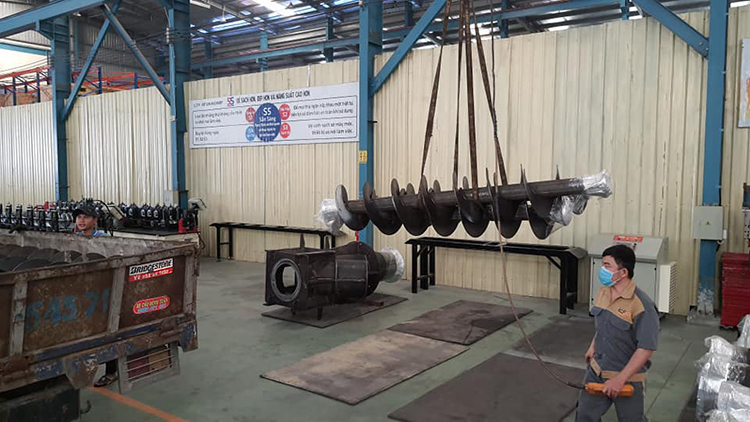 Machining of CNC screw propeller
CNC Milling Machining
CNC Milling Machining

4. The process of receiving a quote for metal CNC machining services in Viet Son
Step 1: Customer sends request for quote
Customers send processing samples, design drawings and accompanying requirements. You can send an email to vietson@vietson.com.vn, express delivery or call the hotline. In addition, you can come to our company to directly discuss and advise. 
Step 2: Conduct design consultation and quote 
After receiving the request, Viet Son staff conducts a feasibility check of the product. From there, design consultancy and plan as well as product processing plan. After agreeing on the best implementation plan, Viet Son will quote the service price.
Step 3: Sign a CNC machining contract with the customer 
Once the two parties have agreed on the service quotes, the contract will be signed. Viet Son ensures clear, transparent contracts and many benefits for customers.
Step 4: Perform detailed CNC cutting as required
Viet Son's team of engineers and employees will process the product. The machining process is done carefully and ensures the schedule as the signed contract. 
Step 5: Monitor, check and measure the quality of finished products
During the machining process, there will be staff in charge to monitor the operation of the machine. To ensure that the product created meets the requirements of the customer. The products are of the best quality with the exact same as the contract.
Step 6: Hand over the product to the customer and conduct the acceptance test of the finished product and liquidate the contract
Your business is in need of machining or find out a quote for CNC cutting services. Please contact Viet Son Mechanical immediately via hotline 0898 679797 – 0922 668 868. For the most accurate advice and quotation for each customer's needs.