Steel plates are used in many fields from industry, mechanics, to marine, shipbuilding, etc. Along with the development of industry, mechanical engineering, manufacturing, the demand for processing and cutting steel plates is increasing. . In addition to the factors of machine capacity and technical skills of engineers, Quotation for CNC cutting of steel plate is the primary concern of businesses.
1. Types of steel plate commonly used today
Steel plate is an extremely popular material used in many fields. Such as mechanical, industrial, shipbuilding, factory structure, wharf, car floor, ...
On the market today, there are 4 different types of steel plates, meeting the needs of processing and cutting products for many different purposes, which are:
Hot rolled steel plate
Hot rolled steel plate usually has a characteristic dark blue color and is not sharp.  
Hot rolled steel plate is used in mechanical processing, car industry and roofing, shipbuilding, ... Including types SS400, SS450, A36, Q345B, C45, 65r, SB410, 15X, 20X, ... 
Cold rolled steel plate
This steel has a bright color, high gloss, neat edges, no roughness. Often used in the manufacturing industry, automobile manufacturing or construction, ...
Common steel grades: 08K, O8YU, CT3, SPCC, SPCC-1, SPCC-2, SPCE,... 
Sanded steel plate (anti-slip steel)
Abrasive steel plate is also known as anti-slip steel, ribbed steel plate… Ribbed surface is raised to prevent slipping. Therefore, they are often used to make working floors, marine decks, stair treads...  
Common abrasive steel plates: CT3, CT3πC, CT3Kπ, SS400, SS490,...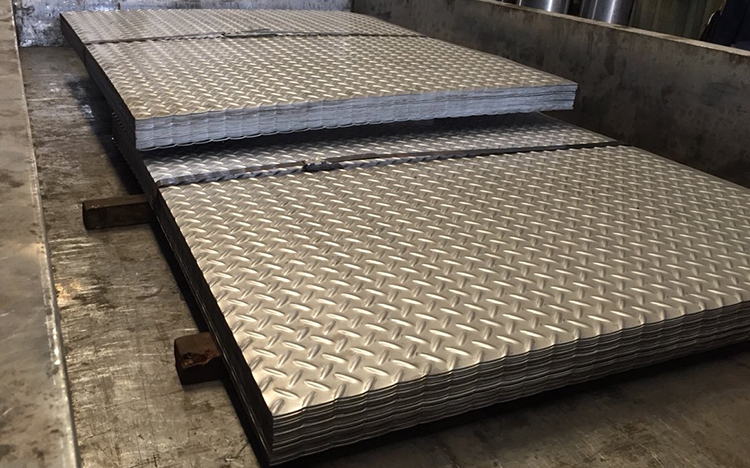 Anti-slip steel plate
Plain steel plate
This is a type of steel plate with a smooth surface, used for shipbuilding, processing a number of items in construction, most used in the shipbuilding industry, making drainage canals.
Common plain steel plate: SS400, Q345, SPHC, SAE1008, O8 Kπ,... 
2. CNC steel sheet cutting service in Viet Son
Viet Son Mechanical is a unit specializing in providing CNC cutting services for steel plates with competitive prices on the market today. By machining method CNC metal laser cutting In modern times, Viet Son has processed a variety of steel plates with different sizes. Ensure that the technical requirements are fully met according to the wishes of the customer.
Viet Son owns a modern 1500*3000 laser cutting machine (TDL - 301SE). Highly complex products that meet tolerances up to 0.001 mm can be produced with outstanding machining speed and output.
Engineers at Viet Son are well-trained, graduated from famous schools across the country. With high skill and extensive experience. Sheet steel products are CNC processed to bring the highest quality, not rough, blackened and maximum aesthetics. 
Moreover, Viet Son is also one of the few companies providing this service CNC machining super long super weight in Ho Chi Minh City in particular and in our country in general. Can process a variety of products from small to large sizes according to customer requirements.
CNC cutting service of steel plate in Viet Son
3. Factors affecting the price of CNC steel plate cutting service in Viet Son
Quotation for CNC cutting of steel plate at different units will depend on many different factors. Some criteria affect the service price:
Quotation for CNC cutting of steel plate depends on thickness
One of the leading factors affecting the price CNC cutting steel plate is the thickness of the steel. The thicker the material, the higher the number of cups, the higher the price, and vice versa.
Quotation depends on quantity of products
The more products you order, the higher the service price will be. However, most outsourcing units in general and Viet Son in particular will have a discount policy when ordering in large quantities. The more you order, the lower the price per product will be. 
The quote depends on the complexity of the work piece
Depending on the complexity or simplicity of the part you need to process, the price of each product will vary. Since more time and resources are spent on more complex details, the price is also higher.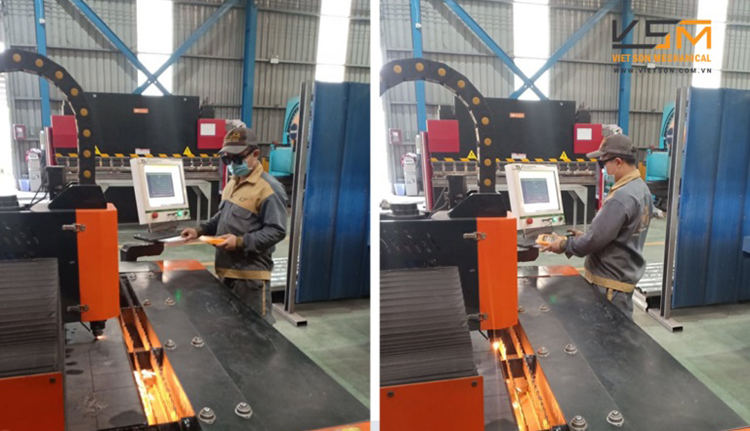 CNC cutting service of steel plate in Viet Son
4. Quotation process for CNC cutting steel plate at Viet Son Mechanical
Step 1: Send a request for a quote for CNC steel sheet cutting
You just need to prepare a drawing of the product to be processed and send it to email 0898 679797. Or you can go directly to the address of Viet Son company. 
You also need to pay attention to enclose full information of details such as thickness, quantity, type of material, cutting specifications and necessary requirements. 
Step 2: Quotation for CNC cutting of steel plate
The engineer team will check the feasibility of the product. From there, develop the most suitable development plan, in order to bring the best quality for your products. 
After that, Viet Son's staff will actively contact you for advice and quotes.
Step 3: Sign the contract
The two parties will proceed to sign the contract when you have agreed to the agreements in the terms. To ensure the interests of both with the desire to cooperate with customers for a long time.
Step 4: Conduct CNC cutting of steel plate
Viet Son's programming engineer will set up parameters and draw samples on the computer. Then the operator will monitor the machining process most closely. Bringing maximum perfect products for the benefit of customers.
Step 5: Check the product
Viet Son has a team of engineers who specialize in checking product quality with the most modern equipment with the highest accuracy. To ensure that all products after processing are of absolute quality.
Step 6: Handing over the product
After the quality check, all processed products have met all technical requirements and ensure aesthetics. We will hand over the product to you and proceed with the liquidation of the contract.
Contact now with Viet Son via hotline or leave information in the form below. We will actively contact you for advice and Quotation for CNC cutting of steel plate as required profession.