With many wide applications in life and fields such as aviation, industry, automobile, .... Precision mechanical processing industry is increasingly focused on investment and development. Therefore many companies receive precision mechanical processing born. To provide the best service and quality to our customers. 
Viet Son is the same way, we focus on investing in infrastructure, modern equipment and machinery and a team of experienced engineers. Can meet most of your machining needs.
1. Viet Son materials receive precision mechanical processing
Viet Son Mechanical is a well-known unit in the field of precision mechanical processing in Ho Chi Minh City today. We can process a variety of materials with high precision such as:
1.1. Iron
Iron has the advantages of low price, good bearing capacity, high ductility and hardness, so it is widely used in automobile manufacturing, building frames, ship hulls, etc.
1.2. Steel
Steel has many grades with different features and is used in many fields such as CNC laser cutting of steel plate, construction, shipbuilding, ...
Processing steel plate laser cutting for stairs
1.3. Gang
Cast iron has the advantages of good castability, high fluidity and easy filling in the mold; Strong compressive strength, good wear resistance.
Therefore, cast iron is often used to process machine parts with complex shapes. Including: machine body, housing, belt, gear, bearing, rolling shaft, ...
1.4. stainless steel
Stainless steel has the advantages of being durable, stainless and resistant to high temperatures, good cold resistance and easy processing.
Stainless steel is widely used from household appliances to shipbuilding, construction works, doors, stairs, etc.
In addition, Viet Son also receives precision mechanical processing on other metal materials such as aluminum, copper, etc. With product quality and high accuracy.
2. Products receiving precision mechanical processing at Viet Son
Viet Son Mechanical Company is a strong unit in precision mechanical processing of large-sized and heavy-weight parts such as:
Large parts or super-heavy machine parts. Usually the front end assemblies, crankshafts, large diameter steel pipe blocks, gears, flywheels, machine parts, tanks, etc.
Machining CNC machine frame

complete as gear box frame, concrete casting machine frame, cnc machine frame or other manufacturing machine frame. 
Machining CNC screw wings, large details, large assemblies, the structure of large machines such as: Plastic injection molding machine table, concrete casting machine frame, blow frame, other machine frame. Details of gears, large-diameter flywheels, workshop frames and many other large-sized equipment in factories and workshops.
Machining CNC machine frame
3. What services does Viet Son receive precision mechanical processing?
CNC Milling Machining
Processing industrial stainless steel tanks.

Machining CNC machine frame.

Gear processing.

Machining screw, CNC screw propeller.
Processing and manufacturing CNC machines
Processing large machines, large machine parts, ... with high precision.
CNC laser cutting processing
Laser cutting processing on all metal materials: stainless steel, iron, steel, copper, aluminum ...

Precision stainless steel processing technology. 

Processing sheet metal laser cutting, machine details, textures, metal furniture and processing according to technical drawings.

Machining stainless steel up to 10mm, iron up to 20mm, copper up to 5mm, aluminum up to 5mm
4. Top 5 reasons why Viet Son is the leading precision mechanical processing unit in Ho Chi Minh City today
Professional and experienced engineer team
Viet Son Mechanical is one of the mechanical companies with the most powerful staff in Ho Chi Minh City today. With more than 50 well-trained and experienced workers in mechanical processing. Can process a variety of materials with sizes from small to large, even super-heavy parts. 
Advanced machining system
Viet Son Mechanics focuses on equipping modern machinery systems. Consists of
Modern CNC 1500*3000 (TDL – 301SE) laser cutting machine. Can produce many types of parts and materials by CNC laser cutting, processing according to all customer requirements. 
CNC bed milling machine for super-heavy machining
Including modern machines such as CNC bed milling machine SNK 7.5m – Fanuc 15m, CNC milling machine Okuma – Fanuc 21m, 4 axis CNC milling machine – Fanuc 0m. With Hision CNC bed milling machine, we can CNC machining super long super weight up to 12m in length and 12 tons in weight.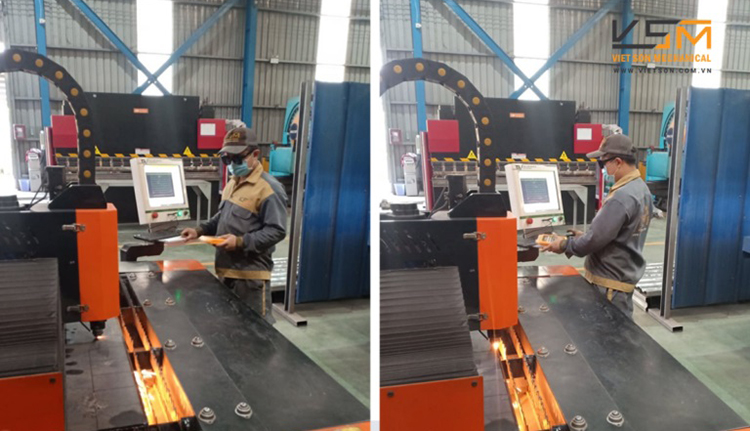 Metal laser cutting machine in Viet Son
High quality infrastructure
Viet Son owns more than 11,000 m2 of solidly built factories. Meet the needs of designing and processing a series of large-sized parts in a short time.
Provide a variety of services 
With 3 main services are CNC milling processing, CNC machine manufacturing and CNC laser cutting processing. Viet Son can confidently serve most of the needs of our customers.
Can process super-heavy parts
Modern machinery system and a team of engineers with knowledge and skills in processing large-sized parts. Can process super-heavy parts for many fields such as automobile manufacturing, marine, aviation, shipbuilding, etc.
You are in need of machining mechanical details but have not found a suitable unit? Immediately contact Viet Son – company receive precision mechanical processing leading in Ho Chi Minh City today. Please leave your information in the form below. Our staff will actively contact you to advise and quote the most detailed price.