Single girder gantry crane is a device that helps to lift and move goods. With many outstanding advantages such as: flexibility, space saving, and high productivity, it helps businesses save time and achieve economic efficiency. Therefore, cranes are increasingly used in industrial and mechanical manufacturing plants today.
1. What is single girder overhead crane?
Single girder crane or other name is single girder crane, single girder crane, single crane, etc. is one of the equipment commonly used in factories and factories.
It is often used to lift, lower and move heavy objects (raw materials, equipment, machines, ...) in factories and factories to meet the needs of: processing, production, transportation, etc.
2. How many types of crane are there?
Sort by load:
Single girder overhead crane 1 ton.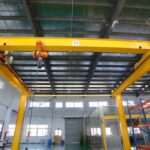 3 ton single girder overhead crane.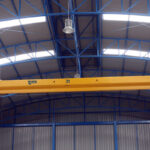 5 ton single girder overhead crane.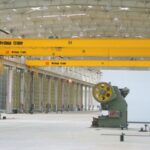 10 ton single girder overhead crane.
Single girder overhead crane 20 tons.
Classification according to beam frame structure:
The crane has standard cast I, H steel beams (with a small load and aperture from 1 to 3 tons).
Crane with box girder combination (load level 1 - 20 tons).
Crane type The combination of box girder, cast I, H beam allows to increase the aperture more than the above two types.
3. Structure of the crane
Main parts:
3.1 Main girder
Is the main bearing part of the crane and is mounted with a hoist (lifting device). The main girder is usually made of steel plate or section steel linked together by welds in the form of a box, in the form of steel I, H, or a combination of both boxes and I, H.

3.2 Side beams
The part that helps the main beam to move from the beginning of the workshop to the end of the workshop. Boundary girder is composed of 3 main parts: side beam frame, moving wheel and axle, moving motor.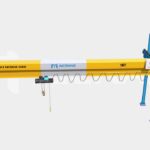 Border girder frame: usually on both sides of the workshop there is a solid structure to help the main girder move.
Moving wheels and axles: The active wheels are linked to the moving motor through a gearing mechanism. The center size of the two wheels is designed depending on the lifting capacity and the aperture of the crane.
Moving motor: Depending on the weight of the crane, the travel speed, we choose the appropriate type of motor and capacity. The 5 ton crane uses two sets of 0.75KW motors.
3.3 Lifting hoist – electric winch
A device that uses electricity to lift and lower heavy objects by means of chains or cables. The pallet is very handy and highly efficient in the process of loading and unloading goods weighing from 1 to 500 tons.
In addition to being widely used in industrial production plants, Palang is also used in industries such as: construction, irrigation, mining or in harbors to lift objects vertically or horizontal.

3.4 Crane and hoist power supply system and other equipment (electrical cabinets, safety devices)
These devices help provide power as well as control and help the crane operate safely and efficiently.
4. Uses and Advantages of single girder overhead crane
The main use is to lift and lower heavy objects such as materials, machinery and equipment, etc. to move to the necessary place to meet the needs of processing, manufacturing or transporting such heavy objects.
The advantages and disadvantages of cranes are:
Advantages

Defect

Compact structure, space saving.

Convenient installation, fast construction time.

Save on initial investment costs.

Short working time, high economic efficiency

Lifting capacity and aperture are not large (Usually less than 20 tons and aperture less than 30m)

The working intensity is suitable for workshops where the working capacity is not too large.

5. Single girder overhead crane specifications
Basic specifications:
| | |
| --- | --- |
| Describe | Parameter (unit) |
| Standard load | 1 – 15 (tons) |
| Ideal Aperture | 3 – 30 (m) |
| Lift height | 2 – 25 (m) |
| Lifting speed | 2 – 40 (m/min) |
| Working mode | Fem 1Am/2m/3m |
| Manufacturing standards | TCVN, DIN, ISO |
| Crane travel speed | Max 60m/min |
| Running track length | Unlimited |
6. Notes when operating single girder overhead crane
Check the operating status of equipment such as hoists, bridge trucks, and passenger cars to ensure normal operation.
Operators and operators must have professional knowledge and skills.
Do not stand on or under objects being lifted.
It is recommended to replace cranes and hoists when there are signs of frequent damage or have been used for 15 to 20 years.
Regularly inspect and maintain the crane periodically.
Viet Son is a unit of processing and installing single girder cranes, with Palang Girder Frames meeting high standards thanks to the application of advanced technology with fast construction time, low investment costs to help businesses achieve economic efficiency. high.
Businesses wishing to consult or process and install single girder crane, please leave information or contact us immediately via hotline 0922 868 868 - 0922 668 868.