Below are the top 5 beautiful pre-engineered steel houses in Vietnam that have been constructed in various provinces and cities. 
With many outstanding advantages over traditional brick and concrete houses, the method of building houses using pre-engineered steel structures has been widely applied in construction projects in Vietnam, such as two-story and three-story houses, coffee shops, homestays, office buildings, factories, and warehouses.
Two-story Pre-Engineered Steel House
This is a 380m2 house built on Son Tra Peninsula that is quite simple, with a minimalist structure that blends harmoniously with nature. It provides a warm and comfortable living and resting space for the whole family.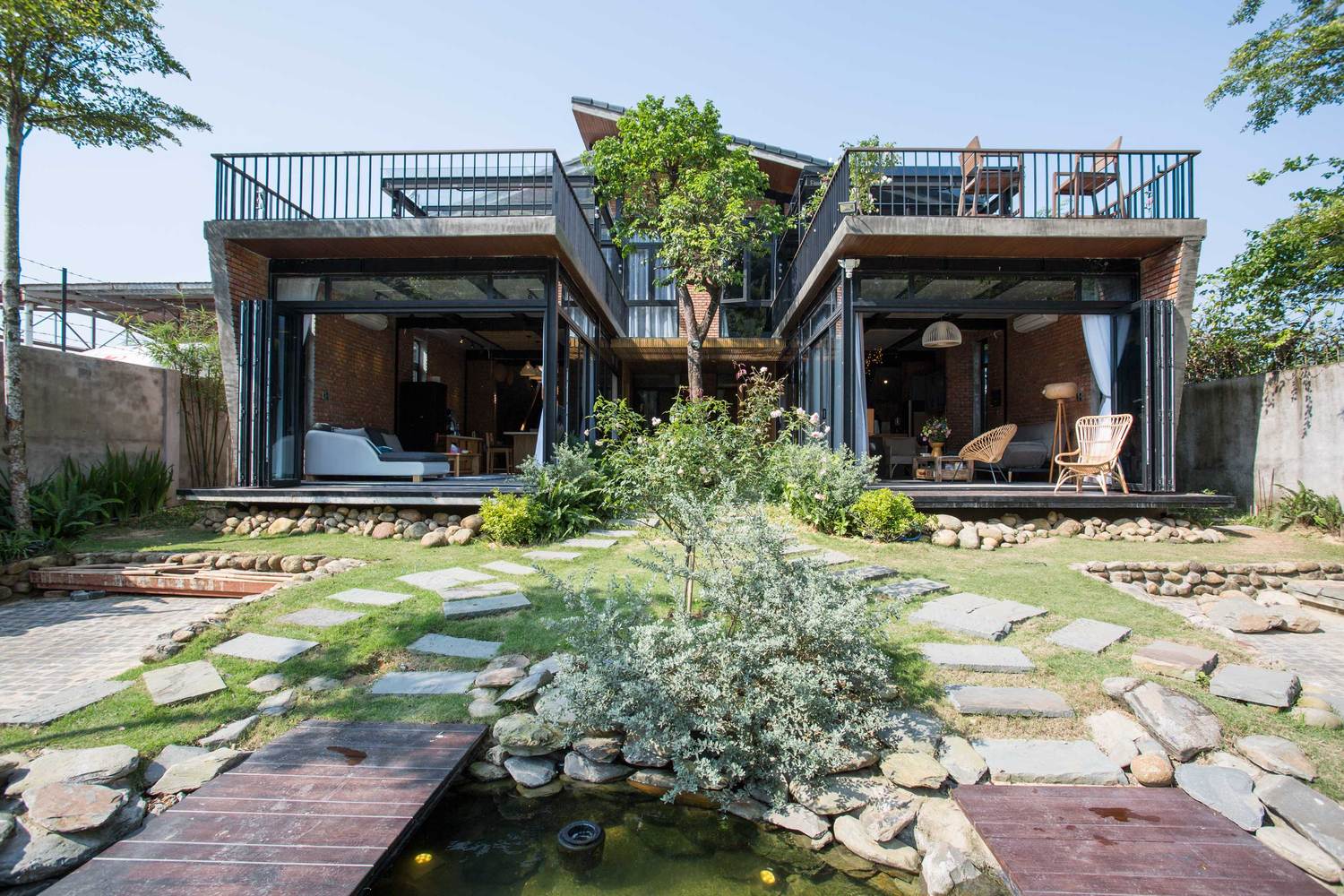 The house is designed using mainly steel and rough bricks. It is divided into two separate areas, each with the same functionand facilities, and completely separate spaces symmetrically across a garden in the middle, suitable for two close families to live together. The garden serves as an intermediate space between the two houses and also functions as the main entrance. Meanwhile, the exterior of the entire building creates an illusion of a single house.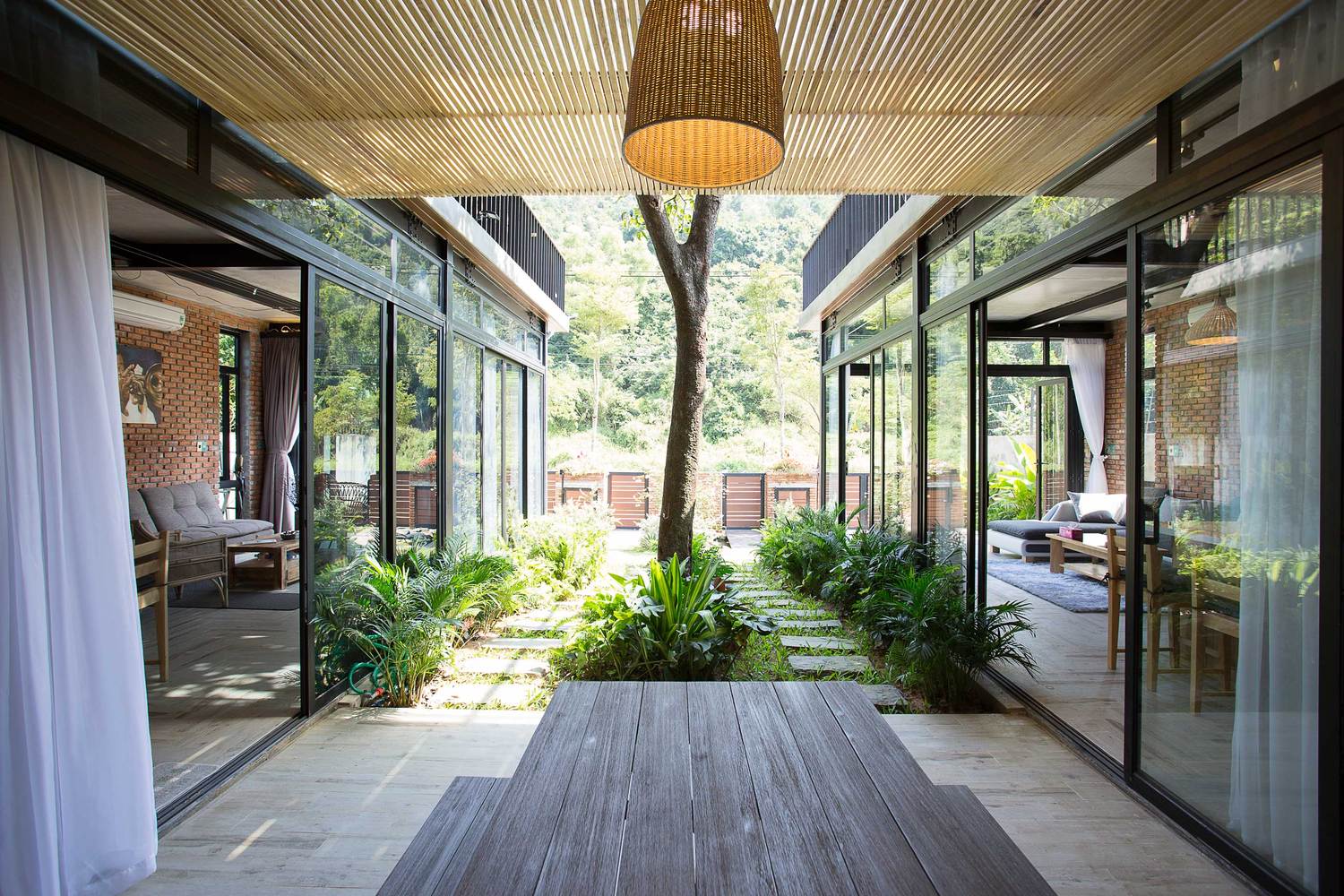 The ground floor includes a living room, kitchen, and bedroom, all connected to a spacious garden area. They can be accessed through sliding glass doors. With this solution, the air feels more spacious and closer to nature. When all the glass doors are opened, the indoor and outdoor areas blend into one, allowing you to immerse yourself in nature.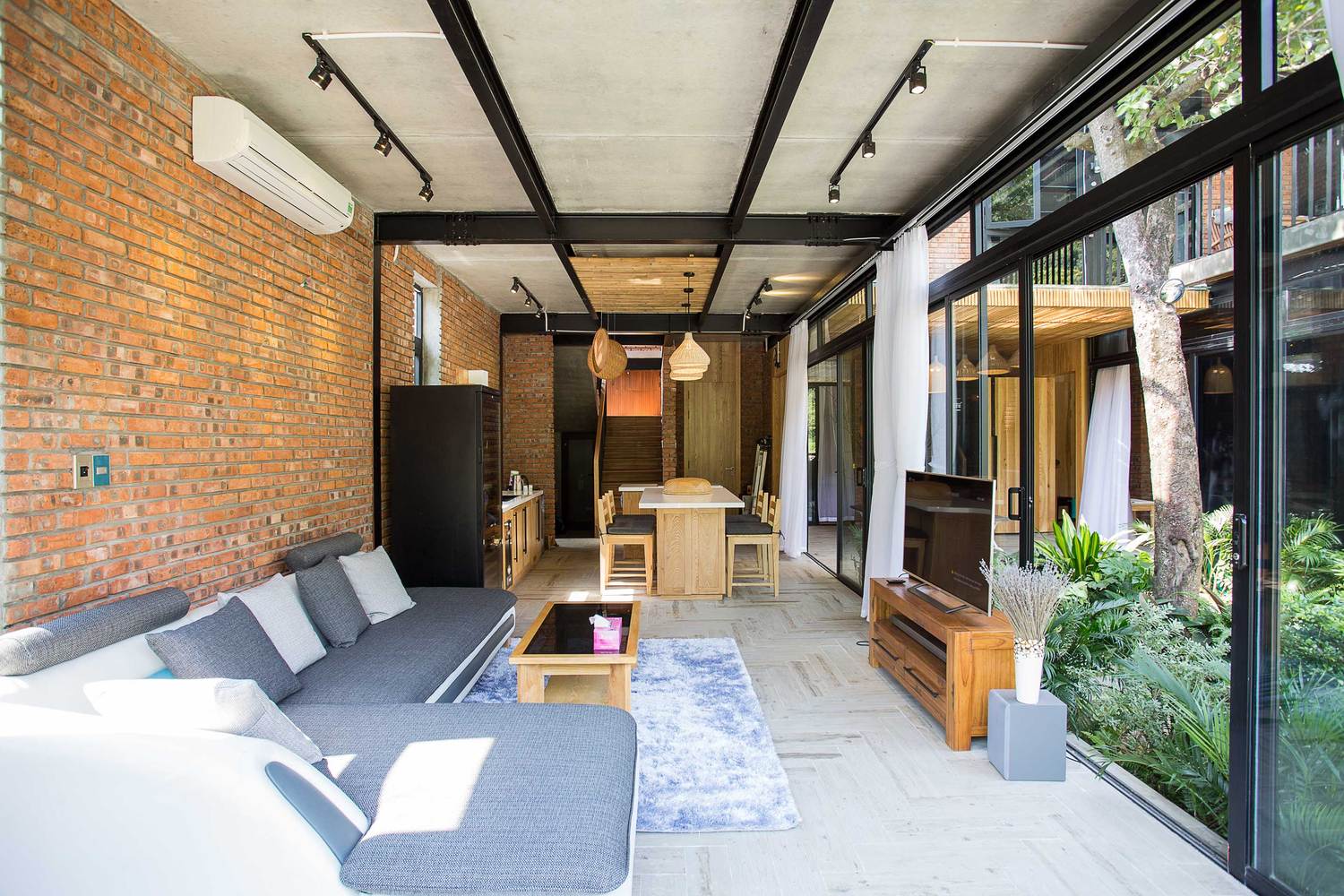 The first floor includes a large bedroom and a spacious terrace equipped with a glass roof. People can directly see Son Tra Mountain from the bedroom and the terrace, creating a sense of touching nature.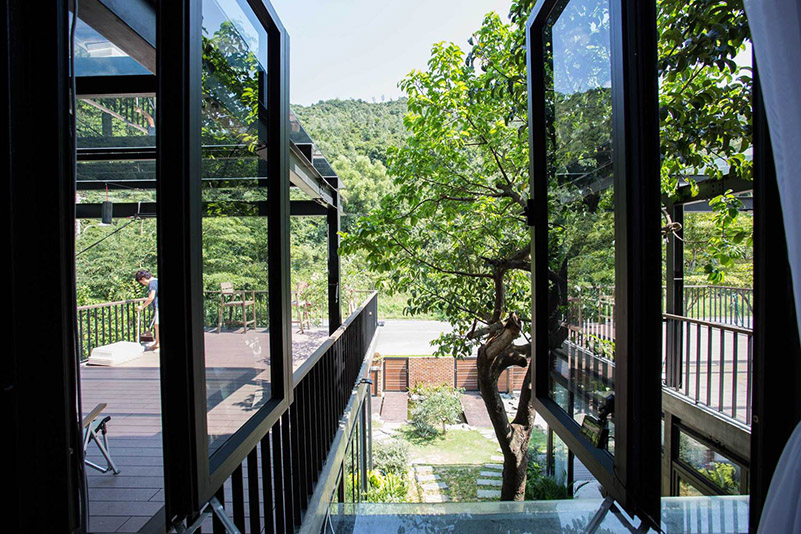 Pre-Engineered Steel House with Coffee Shop Application
O2 Coffee is one of the pre-engineered steel houses with unique designs. The coffee shop was built in Hue with an area of 170m2. The structure of the building mainly uses load-bearing steel frames for column positions, roofs, and floors. The covering and cladding materials mainly use non-fired bricks.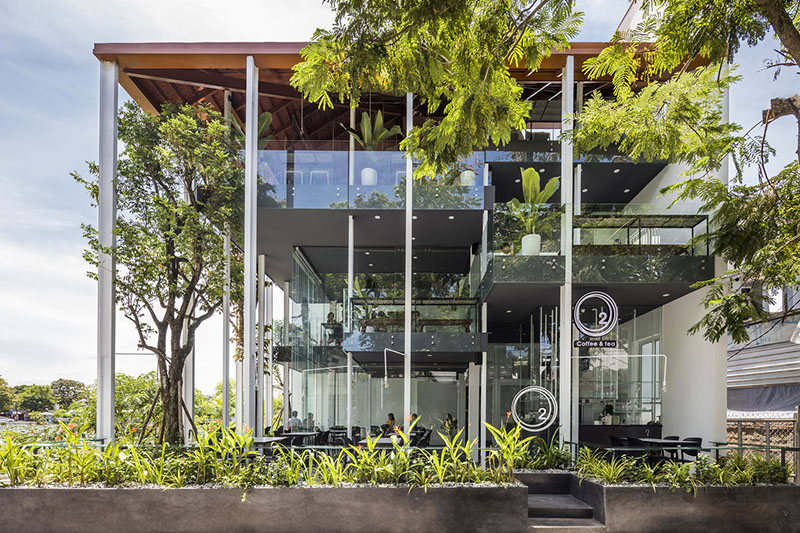 The project is a story that connects the past with the future, both bringing architectural designs suitable for Hue's climate and culture and featuring the modernity of pre-engineered steel houses. These characteristics can be easily seen through the arrangement of straight steel columns or the slanted tiled roof of the building.
The coffee shop provides users with opportunities to observe and explore from various perspectives, thanks to the unique design of the space that makes use of light and shadows.A coffee shop can provide users with the opportunity to observe and discover from very different perspectives. Not just the feeling of sitting in a space, but also the feeling of following and immersing in the changes over time, according to the seasons of the surrounding environment.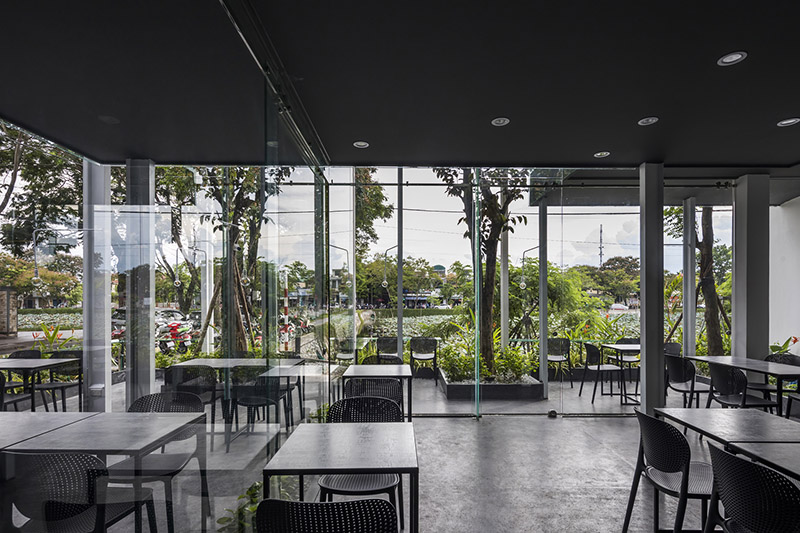 The entire structure is easily assembled using modular methods. The advantage is that materials can be constructed and moved quickly, with minimal impact on the environment during the construction process. The building can also be easily dismantled in the future, and most of its existing materials can be reused for other new construction projects.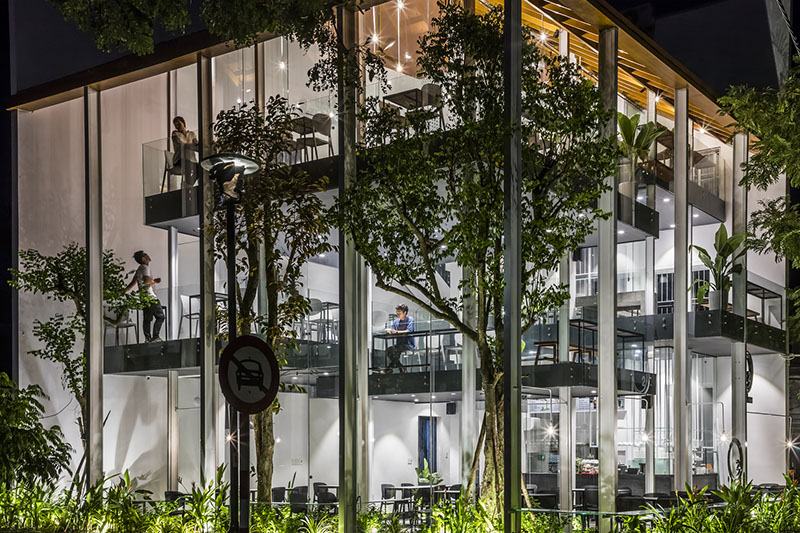 Prefabricated steel house applied for homestay
Nap Am Homestay is built in Dalat with an area of 790m2. 
The outstanding feature that sets it apart from everything around it is its white color, which reflects the characteristics of the foggy city. 
In addition, the homestay inherits a modern architectural style. The front of the building is entirely covered with white-painted steel and CNC-machined with its own designed patterns.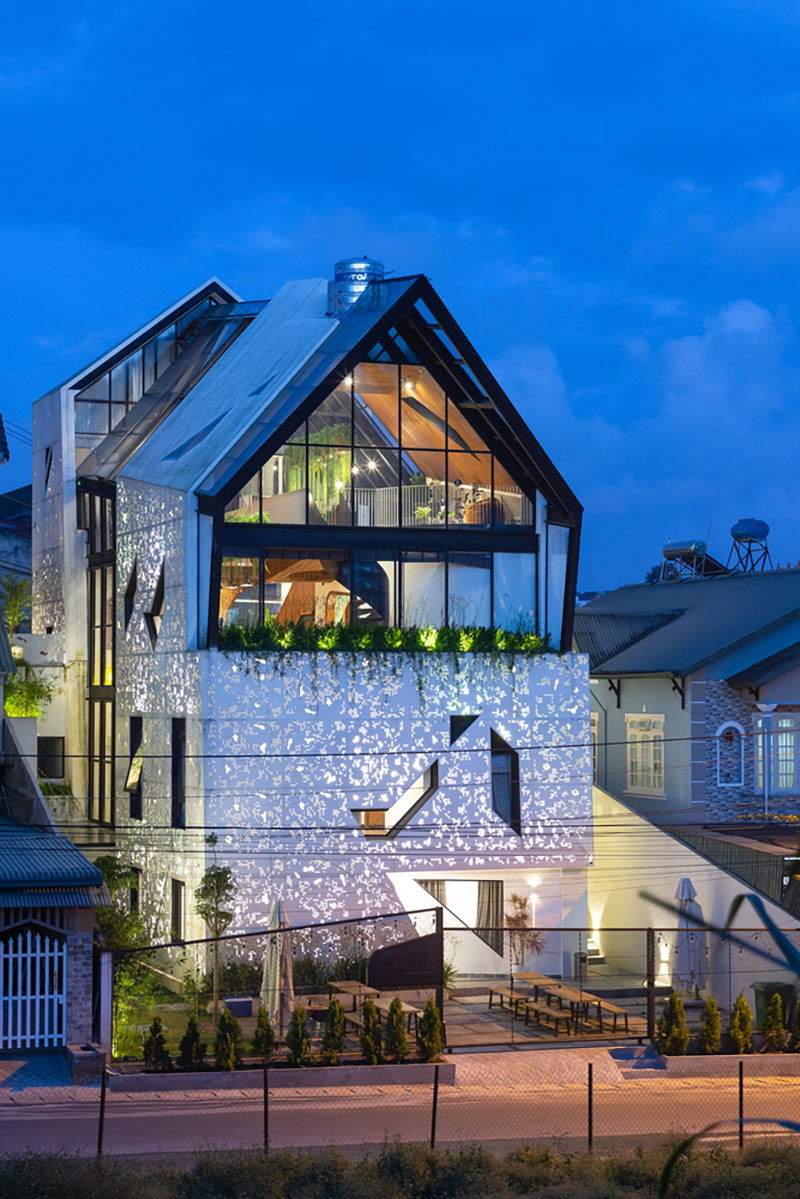 The structure is formed by a combination of shaped steel types, but it is not too rigid. On the other hand, the harmonious combination of pine wood and white color painted on the steel creates a gentle and intimate feeling. It contributes to creating an experiential tourist destination in Dalat that is worth experiencing for every visitor.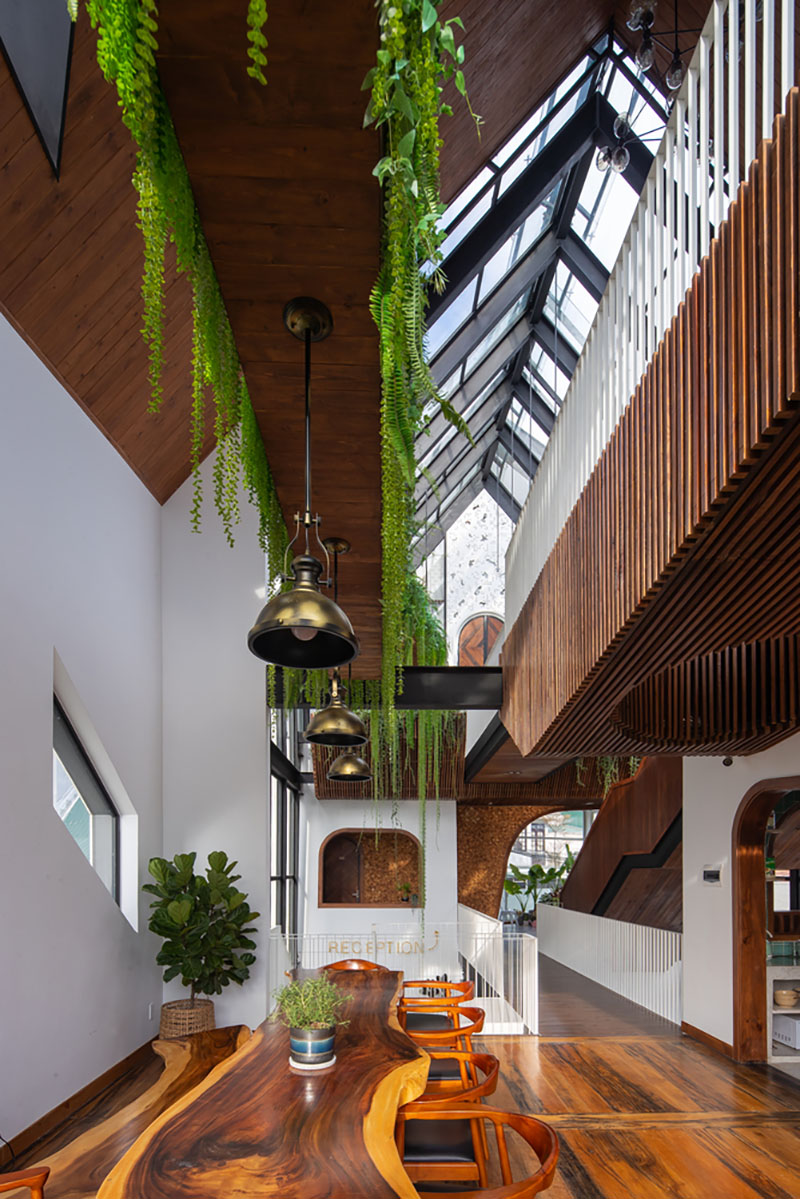 The interior space is divided into 3 floors and 1 attic floor, with the stairs extending from the main hall to the communal living area.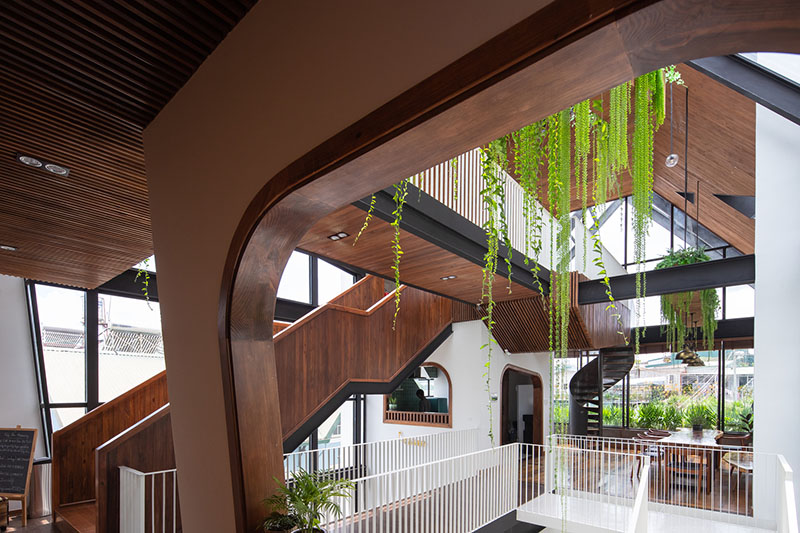 There are a total of 9 rooms including both communal and private restrooms built to meet all customer needs. The hallway between the floors is the main highlight for the attic floor area.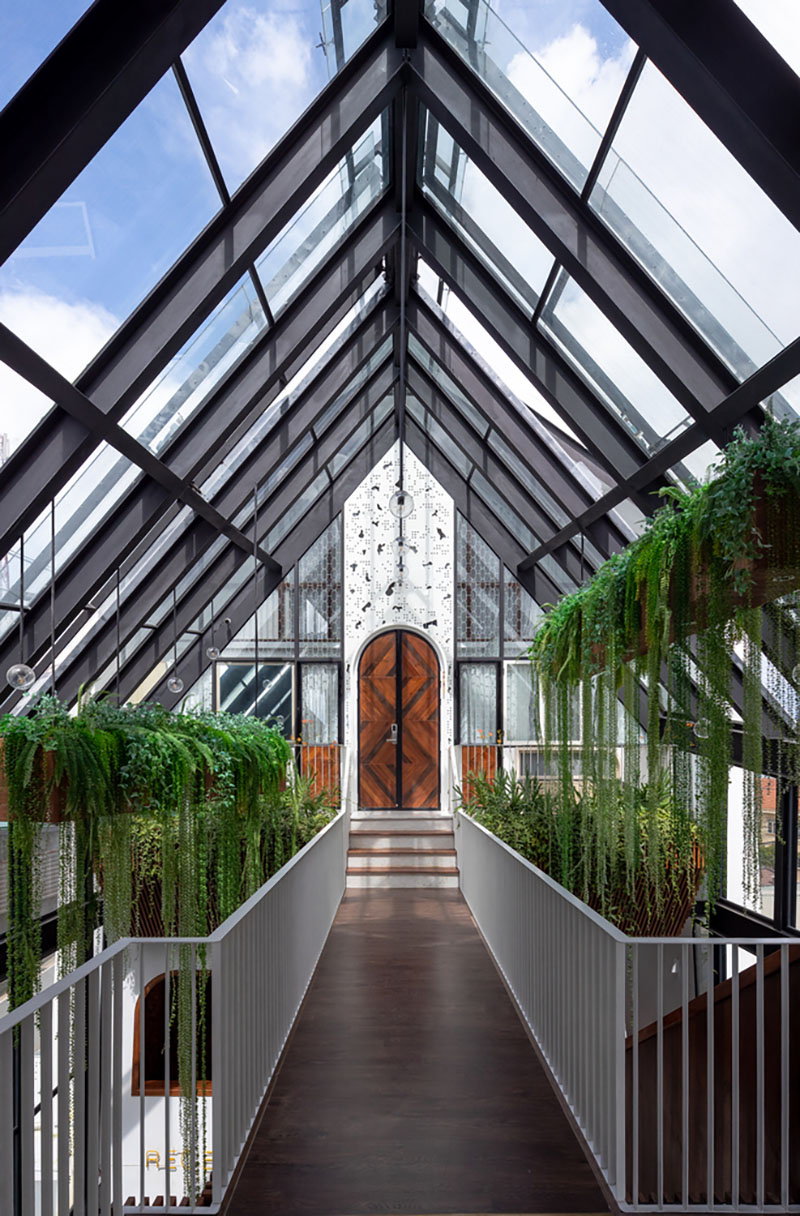 Not only a place for vacation, but also with its unique steel structure, the whole building on sunny days will sparkle with beautiful rays of sunshine. It brightens up the entire homestay and turns every nook and cranny into an ideal film set.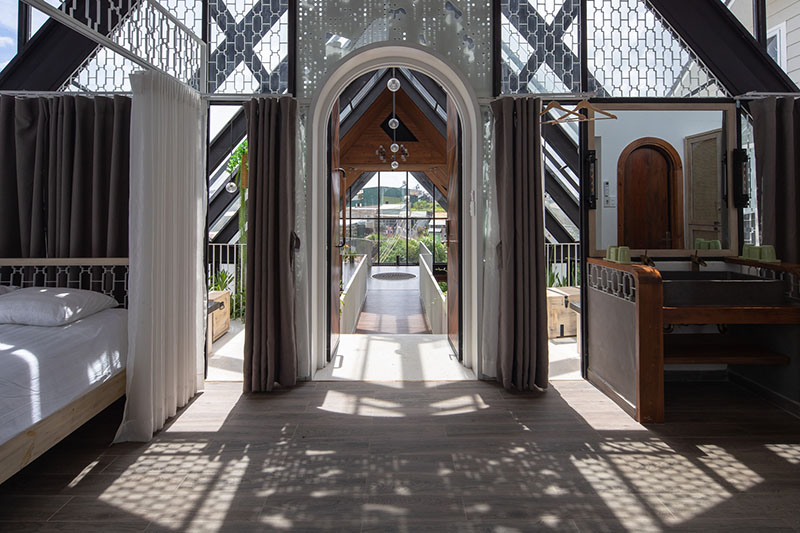 Prefabricated steel house applied for residential building
The building is located in Thao Dien, District 2, Ho Chi Minh City. 
This prefabricated steel house is hidden among classic villas and inspired by French sophistication in Thao Dien, HCMC. It is built using prefabricated steel structures instead of traditional brick and concrete construction.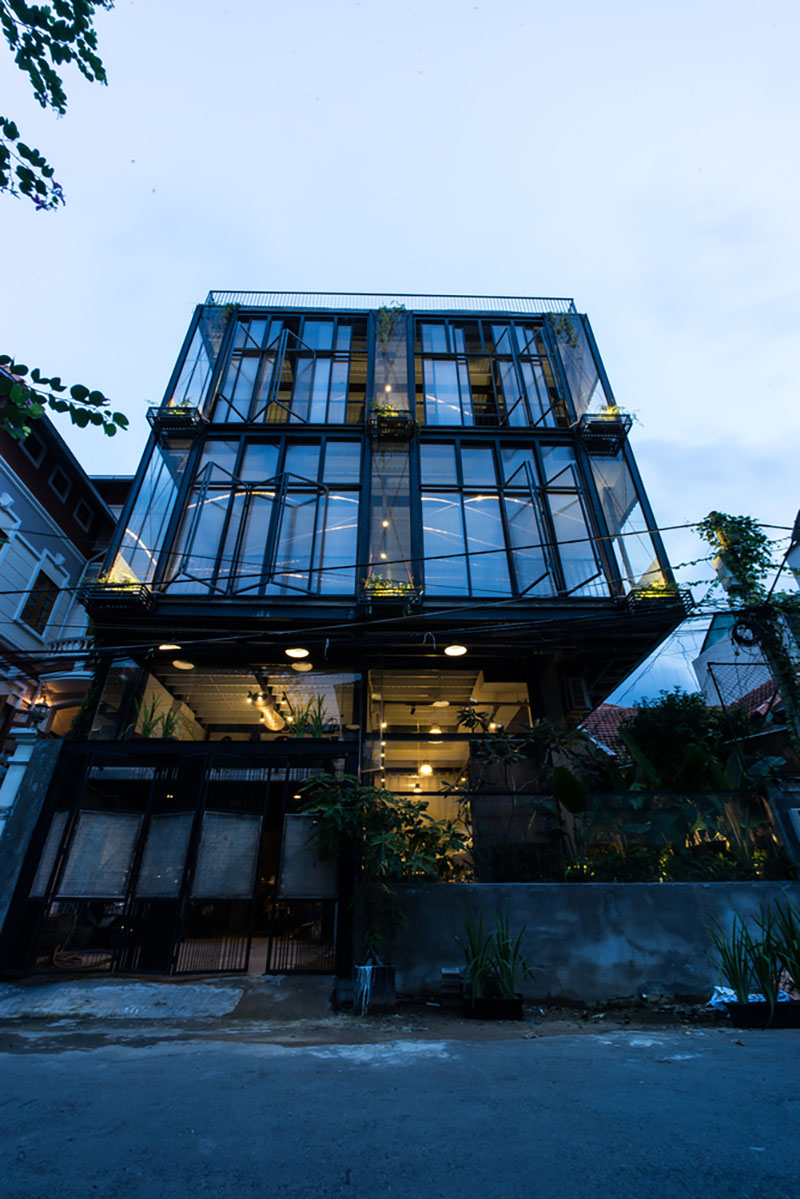 With prefabricated steel structures, they are cost-effective, easy to install and dismantle, extremely flexible, lightweight, and well-ventilated.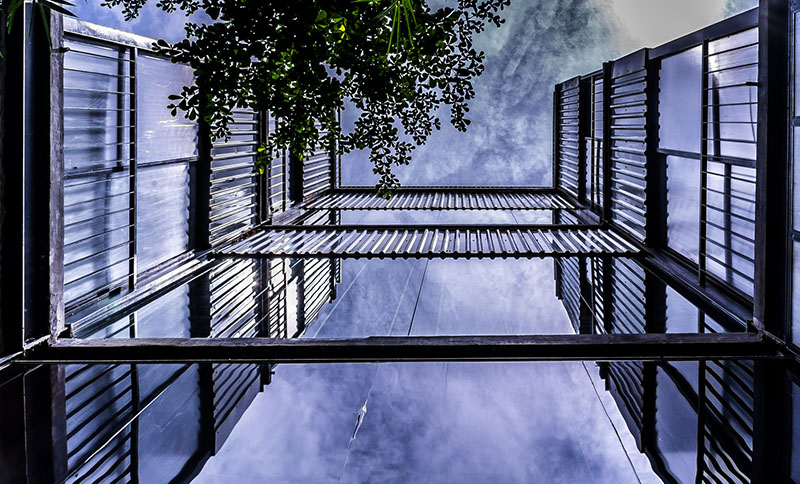 Prefabricated steel houses can choose the interior design that is suitable. With this type of house, homeowners can easily and quickly modify or expand their living spaces as needed, without much hassle or expense. This is a modern and practical solution that can meet the changing needs of families over time.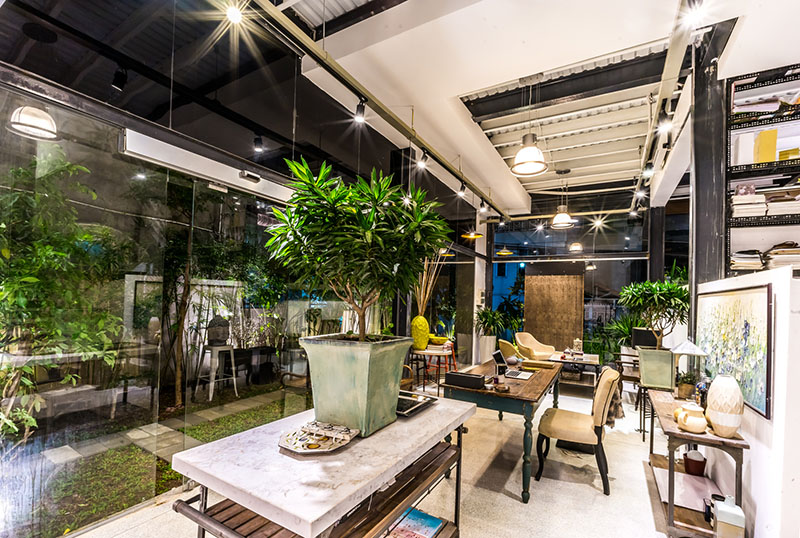 Steel creates a spacious three-dimensional area that can fill interiors according to various needs. The high ceiling doubles intermittently with the lower mezzanine. This allows for countless creative spaces flooded with light.
The rooms of the building can be transformed into different pre-engineered steel house models, such as cafes, homes, furniture showrooms, apartment spaces and offices, as well as rooftops. The steel structure and sliding facade elements allow for control of light, shadow, and air. They blur the boundaries between inside and outside.
The surrounding garden – with tropical trees, roof-planted vines, and planters. The trees at the windows bring nature indoors, creating a great place to relax or work.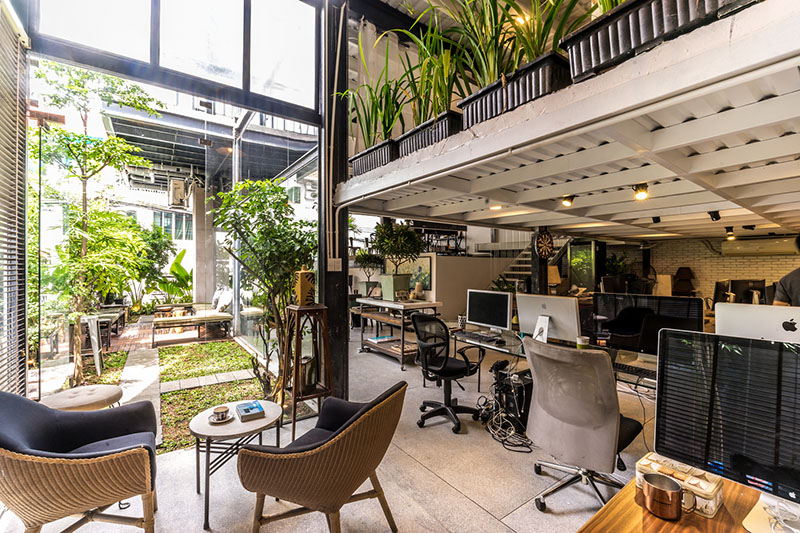 Pre-engineered Steel Office Building
A pre-engineered steel office building was constructed in Binh Chanh, Ho Chi Minh City, with an area of 621m2. The building was constructed based on pre-engineered steel structures. It was renovated from an old factory, abandoned and unused for a long time.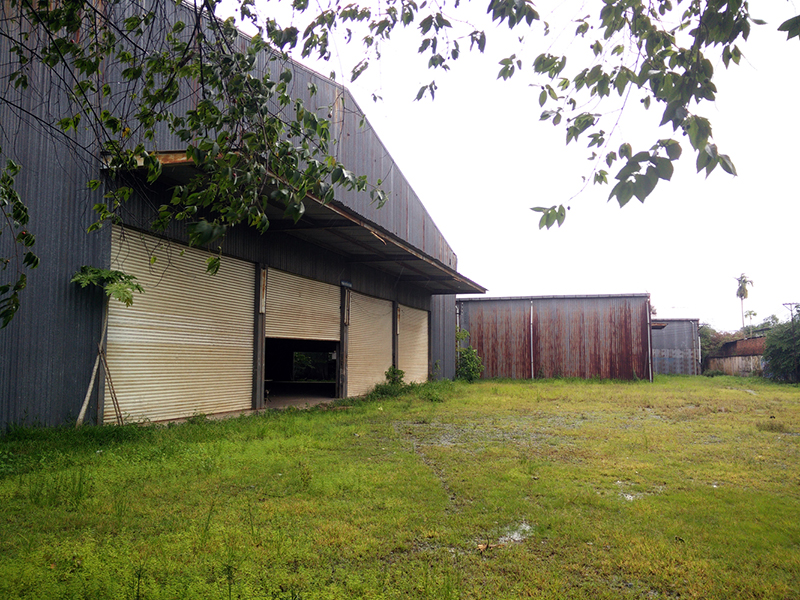 This old factory has been transformed into an ideal workplace for workers. The pre-engineered steel office model provides natural cool temperature and green space with many trees planted around.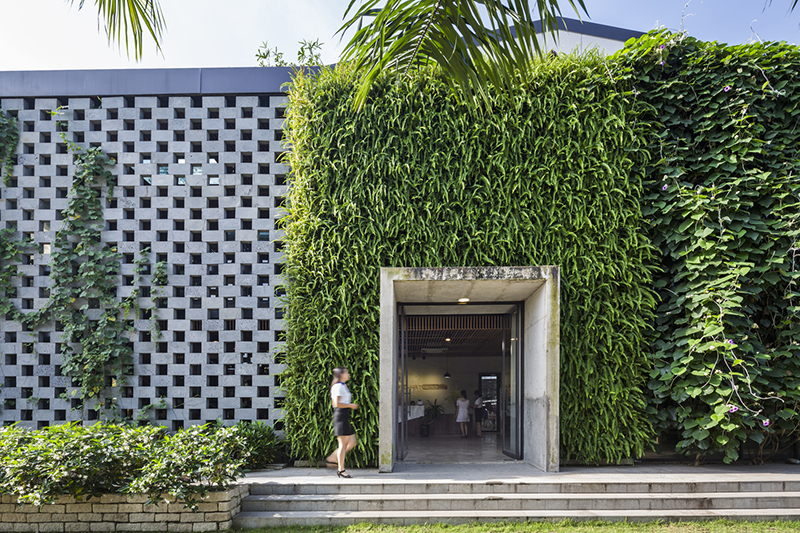 The open space helps the office blocks, such as the design team, to work freely and see each other. It encourages team spirit, and the cool green space created by the light gives employees a comfortable feeling. It helps employees focus on work with better quality and productivity.
The changing workspace dynamics of the company are reflected by expanding the range of vision. The design is not divided and separated by walls or closed rooms. Managers and employees can now see and interact with each other freely.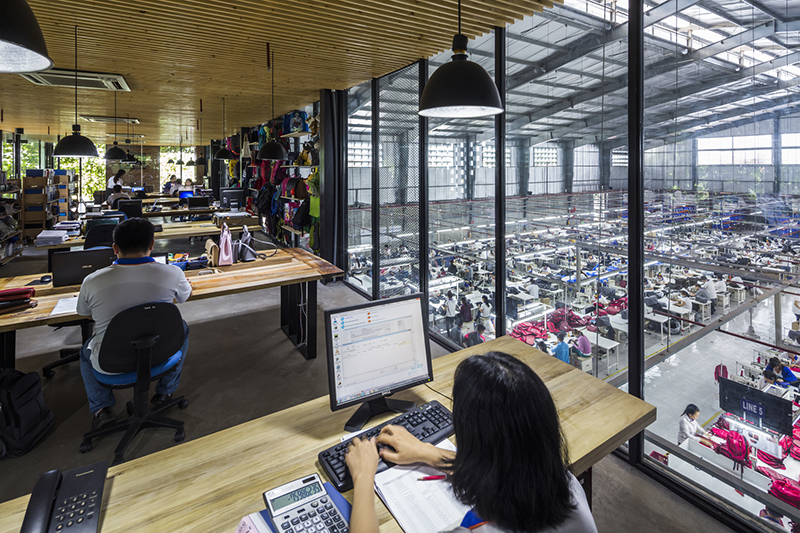 Where to find reliable pre-engineered steel construction?
Pre-engineered steel houses are built on steel structural components. They are manufactured and assembled according to pre-determined architectural and engineering plans. They offer investors many advantages, such as cost savings in construction, fast manufacturing and assembly, freedom to creatively decorate interiors, ease of transportation, and the ability to change designs.
Viet Son with modern and advanced technology, along with an experienced team of engineers, has constructed many pre-engineered steel factory projects from small to large. We provide ideal solutions for pre-engineered steel structures with high-quality and reliable construction.
Residential houses, offices, coffee shops, factories, warehouses, showrooms, large supermarkets, and more. To receive advice on attractive pre-engineered steel house designs or construction quotes, please provide your information or contact us immediately at hotline 0922 868 868 – 0922 668 868.